Our Artist in Residence
Glasgow artist Sarah Leonard has been Artist in Residence at Fortune Works since 2016. Sarah is also mum to Jack who is a service user at Fortune Works. Since she started with us, Sarah has worked with almost all service users, creating portraits of each. Each individual is involved in the process of creating their portrait, reflecting their own individual skills, preferences, and abilities.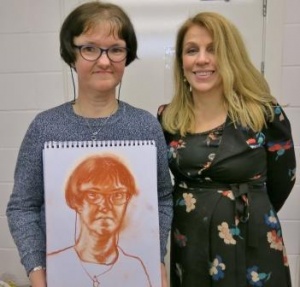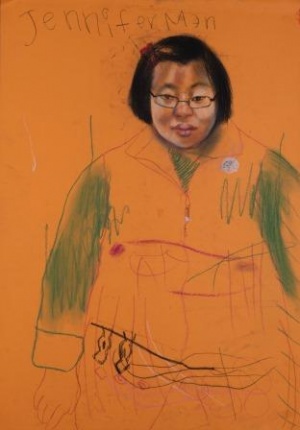 Sarah says "Everyone we have asked has taken part enthusiastically. We aim to show each person's personality, and the portraits also reflect their particular interests and where they are currently in their lives. Next, we are looking at a more ambitious show which uses multimedia to complement the images we have created together".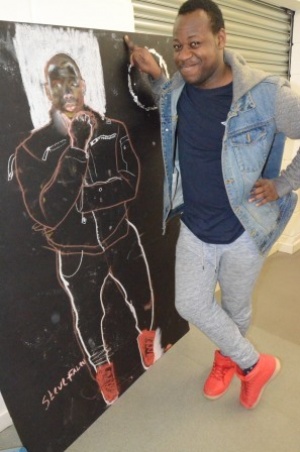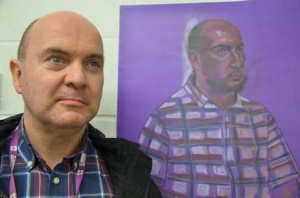 In 2018, as part of the Merchant City Festival and with funding from festival2018, Sarah led the Changing Faces project along with service users from Fortune Works.
Changing Faces was a collaborative portrait project between Sarah, who worked to service users to paint and draw large-scale portraits of individuals and groups - The Fortune Flyers Football Team; The Cafe Workers etc. Each portrait was personalised by the service users and staff also featured, using sequins, LED lights, gold leaf etc. to express individuality. Everyone involved was invited to talk about their experience at a very successful exhibition held at Project Ability in August.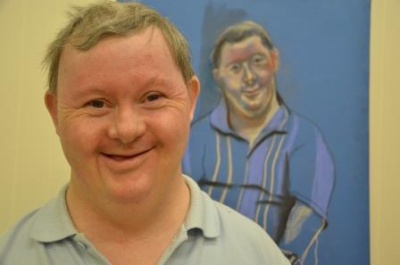 Sarah's next project is to support service users to create work which will hopefully be exhibited at the World Congress of the International Association for the Scientific Study of Intellectual and Developmental Disabilities (IASSID), which will be held in Glasgow for the first time in August 2019.
At Fortune Works, Sarah has helped us to create a unique body of work which will last a lifetime, and reflects our aim to help our service users express themselves in their own particular way.