Volunteer Challenge Days at Fortune Works
Many progressive companies and organisations have a Corporate Social Responsibility programme, and Fortune Works has partnerships with a number of these in order to provide volunteer opportunities for their staff. We work with volunteers from a range of firms and organisations to participate in regular challenge days, working to achieve tasks that build on the principles of teamwork within the community. This has been of real benefit to us over the years, and service users love working alongside their new friends.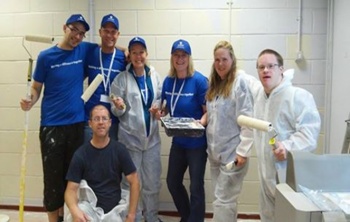 We have been lucky enough to work with some excellent teams over the years from a range of companies, including our long-term supporters Mazars, the global accountancy firm, Zurich, the international insurance company, and mobile phone company 3. Challenges have included a diversity of tasks and fun events including painting and decorating, gardening, litter picking, football and organising quiz and karaoke sessions.
We are always open to enquiries from teams from companies and organisations who are looking to arrange volunteer challenge days. For further information please contact our Service Support Officer jane.feeney@enableglasgow.org.uk Full support and training is given, and we are glad to support companies who wish to publicise their Corporate Social Responsibility agendas.
We also have many opportunities for individuals who wish to volunteer. For more information on this, please see our Volunteering page.