Take Your Supporter to the Movies for Free!
Many people don't know that around 90% of cinemas in the UK are part of a scheme whereby if you need special help to go to the movies, you can take along someone to support you for free. This can be a family member, a carer, or a support worker.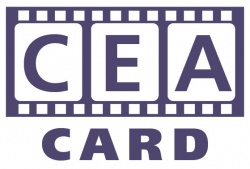 To take advantage of the scheme you need to be a member and have a CEA card. This is a plastic card like a travel pass, and has your photo on it. In order to qualify, you need to have a disability and receive Disability Allowance, Attendance Allowance, Personal Independence Payment, or some other DWP benefits. In order to join the scheme, you need to apply for the card with a photograph and provide proof of your entitlement to any of these benefits, such as your award letter. It costs £6.00 to apply for the card.
You can apply for a card by contacting CEA at CEA Card, PO Box 199, Deeside CH5 9BW. You can also get more details and apply online by clicking here. If you would rather apply by post, you can download the appropriate form here. We are told that you can also apply directly at some cinemas – contact your local to check.