Student Placements
ENABLE Glasgow is committed to taking an active part in the education and training of the social care workforce, and postively welcomes placements from students studying a wide range of relevant disciplines. We also work with a wide range of further and higher education establishments in the west of Scotland.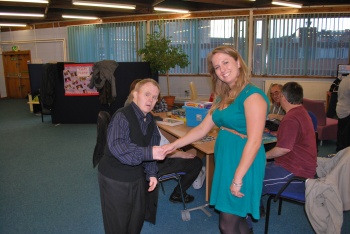 Just as importantly, the students we work with bring a fresh new approach to our work, and contribute very positively to the lives of the people we work with. Many placement students have come back to us as qualified staff members. If you would like to find out more about placement opportunities, please contact us.
Gargi's story
I started at Balshagray House in October, 2013. Being new to this place I was initially quite scared but by the support and confidence which staff showed towards me I am able to be part of the team. I feel great coming to this unit and I am thankful to my college for assigning me to this excellent placement.
The best part being in the unit is the activities I do and enjoy with the service users and staff as well. Story time, dance or visit by dogs it's always fun here.
Thanks again.