Making The Keys to Life a Reality
'The Keys to Life' is the Scottish Government's 10-year strategy for learning disability in Scotland and was published in 2013. The Keys to Life makes 52 specific recommendations covering a wide range of issues, and all organisations concerned with learning disability, including service providers such as ENABLE Glasgow, are expected to apply the principles outlined in The Keys to Life in their service delivery.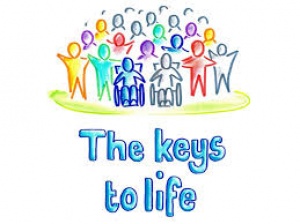 A Glasgow ACE member serves on The Keys to Life Expert Group, which is hosted by the Scottish Commission for Learning Disability. The Expert Group includes people with learning disability from all over Scotland, and monitors the implementation of the Keys to Life strategy
The Scottish Government's latest Implementation Framework for The Keys to Life was launched in early 2019. The Government has stated that the Implementation Framework 2019 – 2021 adopts a "whole system, whole population and whole person" approach to improving the lives of people with learning disabilities in Scotland. The four priority themes are Living, Learning, Working, and Wellbeing. Service users from Fortune Works and Balshagray House took part in the Implementation launch video, and you can see this (and find out more about The Keys to Life) by clicking here.
Also, our supported living units each have Keys to Life champions, who are supported to help make sure that the principles in the strategy are applied in everyone's daily life. We're really pleased that our service users are playing such a direct role in this important work.