In Safe Hands?
Over recent months ENABLE has been gathering information and highlighting the issue of use of restraint and seclusion of young people with special needs in schools. Initial concerns raised by parents led to the discovery that this was much more prevalent than was initially realised, and that there was little or no regulatory oversight of its use. ENABLE Scotland Scottish Council member Beth Morrison has been personally affected by this issue, and has been at the forefront of the campaign for change. The issue has been raised in a number of public forums, and in December last year the Children and Young People's Commissioner for Scotland published a report which outlined many of these concerns and called for a number of measures to be taken in response.

In November, ENABLE Scotland launched its In Safe Hands? campaign, which aims to bring about much needed change. The campaign calls for all children in Scotland have the right to be safe, healthy, achieving, nurtured, active, respected, responsible and to be included, and that all children have the right to expect that when they go to school for the day, that they are in safe hands. The campaign highlights the fact that there is no statutory guidance or clear protocols in place about how to handle this in school. Education staff are not routinely trained, and parents are not routinely told when seclusion or restraint happens. There is no agency responsible for ensuring protocols are in place, and that children are safe from poor practice whilst at school.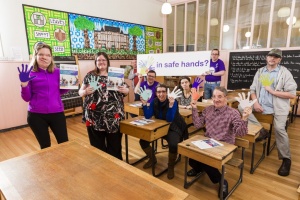 The In Safe Hands? campaign calls on the Government to:
Issue stronger, dedicated guidance on the use of restraint and seclusion in schools.
Roll out Positive Behavioural Support strategies in all schools through skilled staff, with a minimum standard that every school has at least two trained staff on site at all times.
Introduce a duty of candour around restraint and seclusion for all schools.
Strengthen transparency and accountability, with powers of oversight resting with the appropriate body.
The campaign has already generated a good deal of publicity in various media, and the Scottish Government has responded positively so far. We hope that this will help to make school as positive an experience as possible for everyone. You can read the ENABLE Scotland campaign report by clicking here.