Consultation on Glasgow's Draft Carer Strategy
We know that a very large proportion of ENABLE Glasgow members are carers for people with learning disabilities, and that many of you rely on carer support services in the city. Getting that extra bit of help at the right time can make all the difference in helping someone continue in the caring role.
Like many other organisations, ENABLE Glasgow has been consistently campaigning for this important role to be recognised and supported, and the recent Carers (Scotland) Act was a significant step forward in this. Part of the Act placed a responsibility on local Health and Social Care Partnerships to draw up a new strategy for supporting carers.
Glasgow Health and Care Partnership (HSCP) has now produced its draft strategy, and will be consulting on this with a wide range of stakeholders between January and March this year.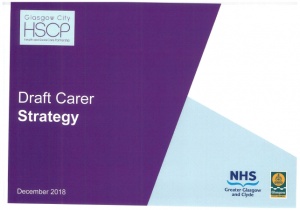 In his introduction to the strategy, David Williams, Chief Officer of the Glasgow HSCP says:
"2018 was a landmark year for unpaid carers with the commencement of the carers (Scotland) Act 2016. It is estimated that 67,000 provide unpaid care, supporting the health and care needs of the people of Glasgow, and making a positive difference to the lives and health of those they care for.
Glasgow Health and Social Care Partnership is fully committed to the delivering the best outcomes for unpaid carers and the person they care for. We recognise that caring for family and friends is a natural part of all our lives, but can be emotionally and physically demanding, but should not be to the detriment of the carer's own health and wellbeing."
You can read the full draft strategy by clicking here, and we can also send out physical copies if you would prefer. For anyone with an interest in this issue, it is well worth a read, and as ever, we would encourage you to make your views known.