Monday Day Club
ENABLE Glasgow's Monday club has traditionally been focused on those who have little access to services, older members, and those who find it difficult to get out and about during the week. Some of our members have found they enjoy the slower-paced activities on offer at the day club. This year, club membership has yet again increased under the auspices of our experienced club leader and a fluid yet vital volunteer team.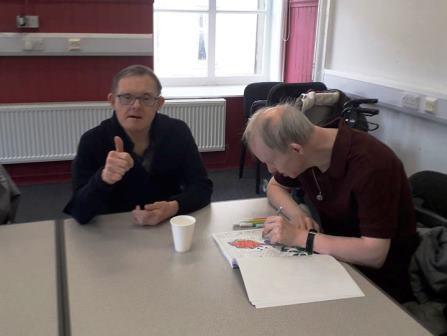 The day club is open to anyone who enjoys slower paced activities such as draughts, dominoes, board games and bingo. It offers a friendly environment for people to come along and enjoy individual or group activities or just catch up with friends over a tea or cofee.
When?
Monday mornings from 10am-12noon
Where?
The Albany Centre, 44 Ashley Street, Glasgow, G3 6DS
Who?
Anyone over the age of 16 who has a learning disability and is a member of ENABLE Glasgow
How much?
£1.00
Activities include board games,dominos and bingo
Other stuff you might need to know...
What kind of support will be available? - The Club is run entirely by volunteers, and as such we are unable to directly meet complex personal care needs. However, members are welcome to bring along their own supporter—many members of our other clubs already do this. Our volunteers will ensure that everyone is safe and secure and able to join in the fun. All of our volunteers are PVG checked and have appropriate training
How will I get there? - Although we can't provide transport to and from the Club, we'll be glad to help people make their own arrangements when we can.
Anything else I need to do? - We ask anyone who comes along regularly to become a member of ENABLE Glasgow. This helps us make sure that we have all the information we need about Club members, and also gives you all the other benefits of being a member, including our monthly newsletter, access to our other clubs, dances and other annual events. Membership is only £5 per year if you have a learning disability.
For More Information please contact us.