Order your copy now!
Posted on 22nd Oct 2014 at 15:23 ( Last updated on 26th Feb 2016 at 14:41 )
Nellimeg Hind is a woman from Glasgow and has a range of special needs, including learning disability. The renowned Scottish writer and painter Alasdair Gray has been a close family friend for many years, and has collaborated with Nellimeg to produce this special record of aspects of her life.

This small book is mostly made up of images that capture Nellimeg's character, friends, and family, and gives a very positive impression how she has contributed to the lives of so many. Alasdair Gray's pictures are characteristically vivid, original, and full of feeling.

Both writer and publisher have kindly agreed that proceeds from sales of the book, priced at £10, be donated to ENABLE Glasgow, of which Nellimeg and her family have been members for many years.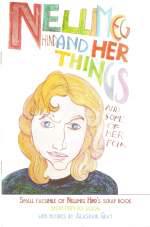 We only have a few copies left! To get yours contact Head Office on 0141 944 4383 or you can download, complete and return an

order form
for FREE POSTAGE!