Independent Review of Social Care Published
Posted on 2nd Mar 2021 at 10:00 ( Last updated on 2nd Mar 2021 at 10:11 )
National Independent Review of Social Care in Scotland
The Independent Review of Adult Social Care in Scotland has now been published. The Review was commissioned by the Scottish Government, and was led by Derek Feeley, former Chief Executive of NHS Scotland. His report is a very wide-ranging and makes more than fifty specific recommendations. Notable recommendations include the creation of a National Care Service, bringing a number of executive agencies and regulators together, and reforming service commissioning and procurement. The Review also calls for greater value to be placed on the social care workforce in Scotland. If accepted by the Government, these changes would mean a good deal of change for everyone concerned with social care in Scotland.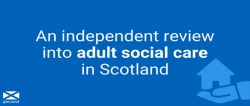 Mr. Feeley and his team consulted with a wide range of stakeholders during the process. Some ENABLE Glasgow service users took part in these consultations, and we were able to tell Mr. Feeley how we thought social care could be improved for everyone.
You can read the review by clicking here. It's well worth a look for anyone who is concerned with social care in Scotland, and an easy-read summary will be also be produced soon.