Keeping Everyone Connected
Posted on 14th Aug 2020 at 11:19 ( Last updated on 19th Jan 2022 at 11:43 )
As a resukt of the pandemic, we've all become ever more dependent on information technology for all sorts of purposes, not least in keeping everyone in touch. However, often people with learning disability find it difficult to access information technology. This can be because it's expensive, or because they find the processes too difficult to understand.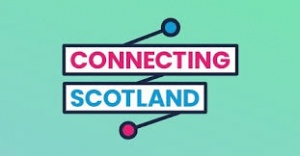 ENABLE Glasgow has partnered with the Connecting Scotland programme, run by the Scottish Council for Voluntary Organisations, to supply iPads, complete with a year's free broadband in each of the two previous years.
In 2020, 95 of our service users and members were able to access brand new iPad 7s of their own, and enjoy free broadband for an initial period of one year(this was later extended for an extra 6 month period). The devices belong to the person concerned, and there is no cost to the recipient. We have worked in conjuction with Connecting Scotland to train staff and volunteers to support the user to get started and to learn how to use the devices in ways that suit them.
Again in the latter half of 2021, we were successful in a bid to recieve 43 more iPads and MiFi devices on similar terms to those outlined above. This time however the iPads were to support employability and were given to service users who would most benefit from them and who were most in need of them at our Fortune Works Project.
The Coronavirus pandemic has made it more important than ever to make sure that everyone is as included as they can be. Over this time we have set up an extensive nework of remote support and friendship, which we have been able to rely on in difficult times, such as with the new Omicron outbreak over the Christmas period.
Watch this space for some case studies on how this initiative has impacted on the lives of some of our service users!