Fortune Flyers
This season has got off to a flying start! Here's a rundown of the story so far –
April
Champions League 20 Flyers A and B participating
A Team finished 3rd and B Team finished 5th. The teams worked on their fitness and teamwork to promote a healthy lifestyle.
C Team at Toryglen V Lifestyles gave the team a game at the appropriate level encouraging and promoting wellbeing through football with C Team winning overall.
The Flyers Blue team (current champions) and a Flyers yellow team went to Glasgow green to take part in the SDS National Championships.
Both teams were in different divisions and both teams finished 3rd in both there groups with 2 wins and 2 draws each which led to a Playoff against each other, this went to a penalty shoot out and created the perfect platform for our players to showcase there talents.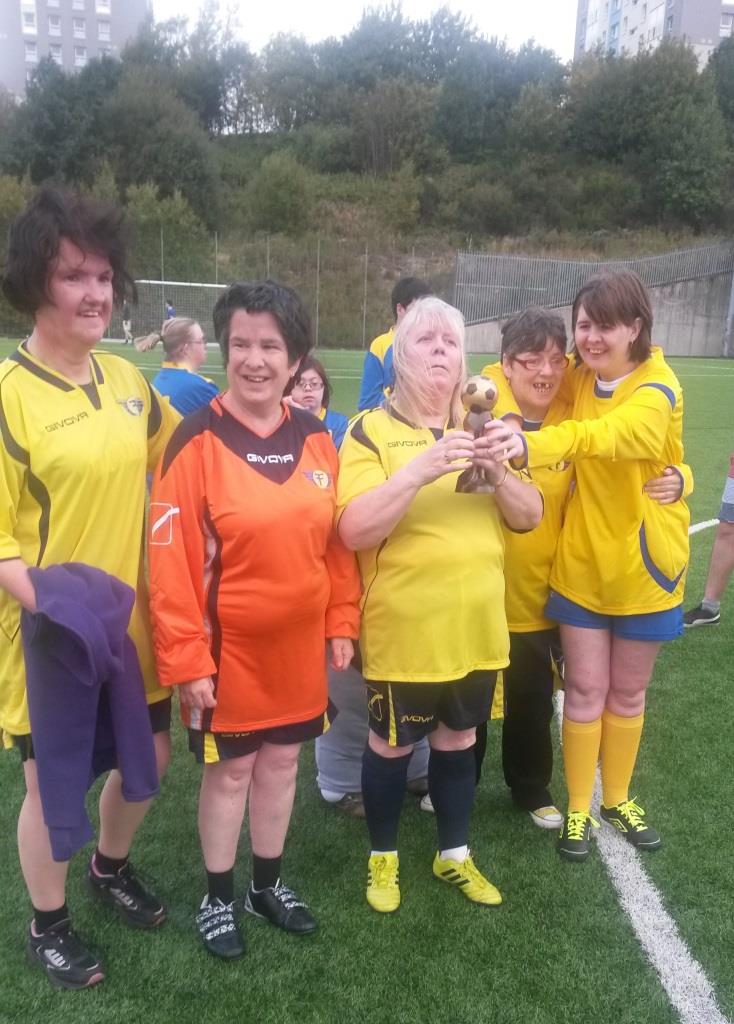 The women's team were in action and after an epic game the Angels managed to beat the babes and claim the trophy back.
May
The Flyers were involved in League action over the weekend and played 4 games to a good standard and come away with 2 losses and 2 draws.
We were involve in a LAC football festival and took a mixed team of abilities Patricia, Freddie, Mark McGarry and Jason Johnston all took part in a competitive match for the first time outwith the centre tournaments and played really well Patricia scored 4 goals.
Jason Johnston scored 2 and Freddie got 2. Everyone seemed to really enjoy the day and it was great to see them in action.
The Females Flyers Cup was played and the Flyer babes managed to win back the trophy from the Angels with some excellent goalkeeping from Diane and 3 goals for Patricia and 2 for Sally clinching an epic 5-3 win.
Peter wright has also done really well today coaching the girls as part of his development in coaching and some of the girls even complimented the work he was doing which was a nice touch.
June
The flyers were in action on league duty and we played 6 games on the day. We managed to win 3 and draw 2 and lose 1 this put us back on top of the league by goal difference. The team played excellent and were a credit to themselves as they worked really hard.
The flyers went into the last league games of the season at the top of the league and we managed to win our first game 1-0 against Glasgow Ladies.
We then played and beat Blantyre 3-2.
We then played Glasgow Ladies again and won 3-0
This took us into our afternoon games in a good position and we managed to beat our closest rivals for the league Lothian Hibernian with a convincing 3-0 win.
Our 5th game of the day was against last years league winners Annan Athletic and we won 2-1.
Our last league game for the day was a title decider as Stirling had managed to win all there games also so a draw for us would have been enough and we duly obliged with a 1-0 victory which crowned us SFA Cashback League 1 winners.
A fantastic achievement and gaining us promotion into the Championship for next season.
The squad for the season was David Thompson, Jim Barry, Peter Wright, James Lamont, Jordan Campbell, William McNee, Narinda Sahot, Frankie McPhileny, Robert Blair, Paul Greaves Cameron Colley and Mark Blair.
Mon The Flyers!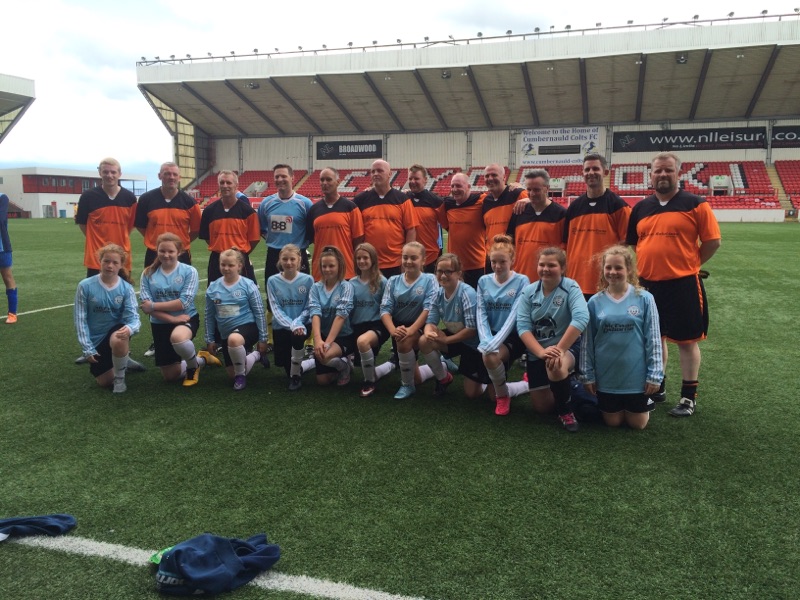 Jordan Campbell and myself (Jason Methven) were involved in a charity football match between Scotland west Special Olympics and Dukla Pumpherston a team of Celebrities and ex pros.
The match was a great success and thoroughly enjoyed by all we managed to raise £1000 to help get some of Scotland West athletes to Sheffield for the GB Special Olympics in 2017.
July
The Flyers were on hosting there regular Champions League today and we played Key Housing and 2 Dumbarton Riverside teams on the day we competed in a round robin setting and decided that we would settle the Trophy on a Fortune Flyers/Key Housing select versus a Dumbarton select at 11 asides this was a thrilling encounter which showcased our talent.
Obviously the Flyers and Disability Football in general is usually 7 asides but the Flyers done us proud and although we never won the Trophy we competed and put on a great show against the team who have just won the Championship the league we will move to next season.