ENABLE Glasgow Annual General Meeting 2020
Posted on 30th Oct 2020 at 15:02 ( Last updated on 30th Oct 2020 at 15:12 )
ENABLE Glasgow Annual General Meeting 2020
This year's AGM will take place remotely via Zoom on Saturday 14th November at 2pm. We're sorry not to be able to hold our usual meeting, but the current restrictions due to the Covid 19 pandemic have made this impossible. All ENABLE Glasgow members have already been sent notice of the meeting along with instructions on how to join it.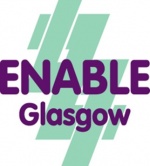 If any member would like help with this, please let us know. We very much hope as many memebrs as possible will be able to take part. However, if you can't, you'll not miss anything - full details will be in next month's newsetter.
You can download an agenda for the meeting by clicking here. You can download a copy of last year's minutes by clicking here. Finally you can download a copy of this year's summary accounts by clicking here.