Fortune Works Cafe
The Public
Fortune Works has a takeaway service open to the public for Breakast, Lunch or Snacks. You can phone in advance on 0141 944 4383 or visit the service and place your order. All orders are welcomed and are freshly prepared on the premises. Orders can be placed from 9am - 11.45am and 12.30pm - 2pm, Monday till Friday. Menus are available to download from this page - to download them just look to your right and click on your preferred format.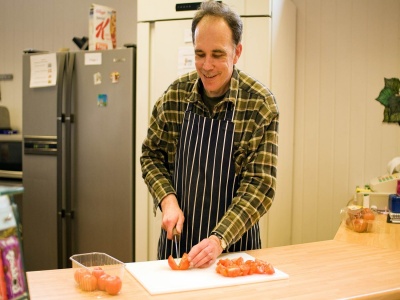 Service Users
In Fortune Works, service users have the option of purchasing a lunch in our cafe, bringing a packed lunch, or having lunch away from the service.
For people who use our service, the cost is £2.10 per day for a lunch within our cafe. Our catering supervisor works with service users who have dietary requirements or allergies, ensuring all meals are suitable and alternatives are provided if required
There is a breakfast option in the morning break and also a snack bar which is available during lunch and afternoon break times. We offer a variety of snacks including healthy options to suit everyones tastes.
Summer menus and winter menus are available below to download, there are alternate menus thoughout the month. In addition to these menus, every couple of months there is a themed lunch that service users can opt for if they would like. Previous themes have included a Burns Lunch, Halloween, Xmas, Valentines Day and an Afternoon Tea.